About Us
Growing the company by improving ourselves, improving ourselves by growing the company
About Us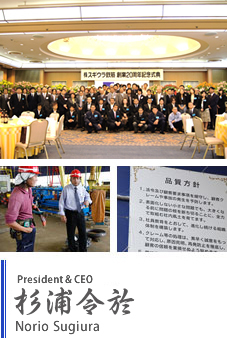 We are a company that aims to grow without bounds and overcome all challenges with perseverance.

We are truly grateful to be able to celebrate the 20th anniversary of the foundation of our company. Despite recent tough economic times, Sugiura Tekkin has been able to increase profits every year since the year we were founded thanks to the support of our customers and affiliated companies. Our gratitude is overwhelming, and while we still have much to learn, we pledge to always put our best foot forward.. We value the love of meeting challenges above all, and understand that giving in to today's hard economic times will surely lead to demise. As a rebar construction specialist company, we will never be satisfied with the present, and will constantly seek new frontiers while continuing to grow and learn from our mistakes -a philosophy dear to us at Sugiura Tekkin. We are a young company that continues to grow, and will continue to expand and cultivate the power of the fighting spirit. In this way, we can truly show our gratitude and fulfill the expectations of our patrons.
Company Philosophy
Seek challenges, create new value and exceed customer expectations
Business Policy
1.Improvement of Quality

Among our goals is not only the improvement of the quality of our manufacturing, but every kind of service offered from the exactness of assembly to the punctuality of delivery.

2.Improving Production Capacity and Production Efficiency

Through capital investment and business development, we strive to increase production capacity as well as efficiency.

3.Strengthening Our Organization

Along with enhancing internal structure, including division of labor and business systems, we can develop our workers by enriching education.
Business
Rebar is the backbone that supports our society. That is why every single piece is made with purpose and care.
Rebar Manufacturing
Bringing imagination to life with the finest materials.
We believe there are three main focuses when it comes to manufacturing high quality rebar. The first of these is a manufacturing log taken by a foreman on site. Based on the blueprints, he carefully and precisely selects and tallies what steel materials will be needed. The second focus is a manufacturing line that uses reliable equipment. Using automated machines for manufacturing processes such as cutting and bending rebar not only ensures consistency and quality, but also reduces the amount of labor required of workers. The third focus is an original barcode-based item management system which prevents careless mistakes and ensures smooth progress management. After finishing the manufacturing process, we of course inspect each product's tag one by one, but as error prevention is paramount in our industry, we work tirelessly to provide a defect free product to our customers.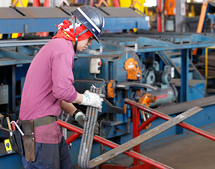 Rebar Assembly
Construction with absolute blueprint conformity.
Rebar assembly that aspires to the true meaning of blueprints.
On the worksite, we take rebar from the factory and carefully assemble it piece by piece according to the blueprints, often with accuracy down to the millimeter. It may be difficult to differentiate some rebar materials at a glance, but there are foundation pieces, slabs, pillars, and beams which all have their own unique characteristics and applications. That is why we make a concerted effort to educate our staff. We hope to instill a mindset in our workers that enables them to have a conscious understanding of each separate task, and to take into consideration different aspects of the construction of each project beforehand. We also employ a unit construction method which allows us to ensure that all products are quality-made beforehand from within the factory on demand.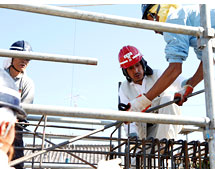 Rebar Marketing
A stocking system that never skips a beat.
Plenty of storage space for peace of mind.
A unique characteristic of our company is the rebar stocking system based on our "Profit Creation Model," which anticipates market price. The price of steel material is easily influenced by the state of the economy, which can sometimes be risky. However, we look into the scrap price trends as well as demand, and are always watching the cost of products from manufacturers in order to keep materials stocked and ready for orders. . The steel material stocked is stored in a generously spacious warehouse. We are also very careful to preserve the quality of the material when stocking. 70-80% of our rebar construction orders include orders of steel materials. That is because we are very particular about the material we use, and consistently store large volumes of material between 3000 and 5000 tons. We also work with and strive to meet the demands of retail stores. * We accept orders from retail stores of 5000 tons or greater.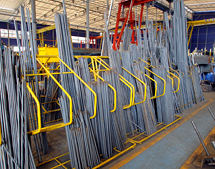 We aim to maintain consistent quality and reduced construction time by ensuring quality production from within the factory.
We provide consistent quality and avoid deviations in the pitch of straps by using unit-specific machinery when spot welding in our factory. Compared to conventional construction methods, unit construction makes it possible to decrease construction time and improve ease of construction site.
Company Overview
Protecting your lifestyle while you live it.
Overview
Moving forward in the rebar industry, resolutely, one step at a time.
Company Name

SUGIURA TEKKIN co.,ltd.,

Representative

Norio Sugiura, Representative Director

Captial Stock

50,000,000 yen

Established

April 1991

Incorporation

June 1996

Factory Address

4-2 Jinta, Kutsukake-Cho, Toyoake, Aichi, Japan

Alt Factory Address

20 Kiriyama-Dai, Toyoake, Aichi, Japan

Telephone

0562-92-3010

FAX

0562-95-4799

E-mail

info@s-tekkin.co.jp

URL

http://www.s-tekkin.co.jp

Operations

Rebar Manufacturing, Steel Sales

Employees

30 Full-time (Factory)
10 Full-time (Construction)
180 Outsourced (45 groups) (Installation)

Top Sales

2.5 billion yen (Fiscal Year 2015 Figure)

Output Volume

30,000 tons (Fiscal Year 2015 Figure)

Stock Volume

8000 tons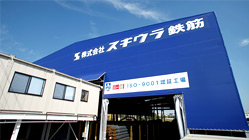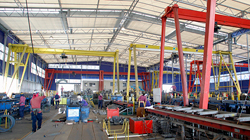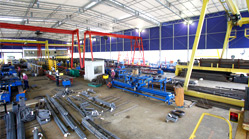 Customers
We count on the people who count on us.
あおみ建設(株)
Aomi Construction
飛島建設(株)
Tobishima Corporation
安藤建設(株)
Ando Corporation
石黒建設(株)
Ishiguro Construction
(株)伊藤工務店
Ito Komuten
(株)イチケン
Ichiken
(株)イリヤ建設
Iriya Construction
岩部建設(株)
Iwabe Corporation
植村産業(株)
Uemura Sangyo
(株)宇佐美組
Usamigumi
オオタ建設(株)
Ohta Construction
(株)大本組
Ohmoto Gumi
(株)オノコム
Onocom
(株)加納工務店
Kanokomuten
(株)希望社
Kibousha
共立建設(株)
Kyoritsu Construction
(株)協和コーポレーション
Kyowa Corporation
(株)北村組
Kitamuragumi
(株)クラスト
Clast
栗本建設工業(株)
Kurimoto Construction Industory
功和建設(株)
Kowa kensetsu
(株)近藤組
Kondogumi
サカイ創建(株)
Sakai Souken
酒部建設(株)
Sakabe Construction
三巳建設(株)
Sanmi Construction
山旺建設(株)
Sanyo Construction
(株)塩浜工業
Shiohama Industry Corporation
清水建設(株)
Shimizu Corporation
新東建設(株)
Shintoh-kensetsu
世紀東急工業(株)
Seiki-Tokyu Kogyo
(株)銭高組
The Zenitaka Corporation
大成工務(株)
Taisei Komu
太啓建設(株)
Taikei Construction
(株)高垣組
Takagakigumi
(株)高柳組
Takayanagigumi
(株)谷内工務店
Taniuchi Komuten
TSUCHIYA(株)
Tsuchiya Corporation
東亜建設工業(株)
Toa Corporation
東海インプル建設(株)
Tokai Impro Construction
東急建設(株)
Tokyu Construction
東建コーポレーション(株)
Token Corporation
東レ建設(株)
Toray Construction
東洋建設(株)
Toyo Construction
徳倉建設(株)
Tokura Corporation
(株)中川工務店
Nakagawa Construction
(株)長瀬組
Nagasegumi
中谷建設(株)
Nakatani Kensetsu
中野建設(株)
Nakano-kensetsu
(株)中村組
Nakamura-gumi
生川建設(株)
Narukawa Kensetsu
(株)日東建設
Nitto Construction
白竹建設(株)
Hakutake Kensetsu
(株)長谷工コーポレーション
Haseko Corporation
(株)檜工務店
Hinoki
(株)前田工務店
Maeda Koumuten
前田道路(株)
Maeda Road Construction
(株)松村組
Matsumura-gumi
丸亀産業(株)
Marukamesangyo
まるひ建設(株)
Maruhi-kensetsu
(株)三木組
Mikigumi
(株)麦島建設
Mugishima General Contractor
村本建設(株)
Muramoto
(株)吉田組
Yoshida-gumi
(株)渡邊工務店
Watanabe-Komuten
And 50 other companies
Sales Trends
Flourishing in a tough economy thanks to our customers.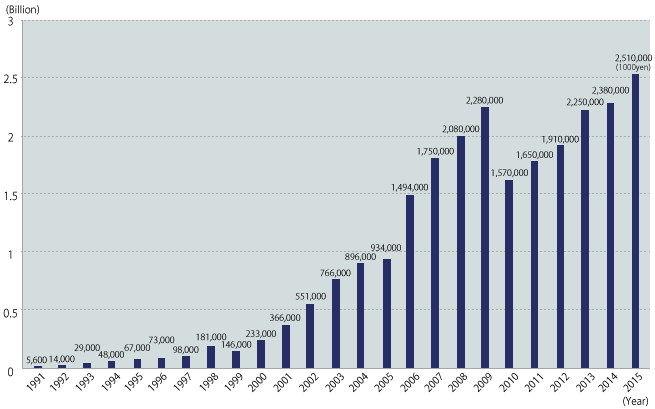 Development
WPutting our challenges first – without fear of change.
Apr 1991

Established SUGIURA TEKKIN as a private sales endeavor

Dec 1992

Constructed 496.5 square meter rebar factory in Sakae-Cho, Toyoake, and began production

Mar 1994

Moved factory to Kutsukake-Cho, Toyoake, and expanded to 1324 square meters.

Jun 1996

Incorporated SUGIURA TEKKIN as a private limited company. Started corporate business with 3 million yen capital stock.

Apr 2000

Opened SUGIURA TEKKIN as a publicly traded company. Increased capital stock to 10 million yen.

Jul 2002

Purchased 2979 square meter headquarters in Kutsukake-Cho, Toyoake. Setup A & B Lines.

Aug 2006

Opened second factory on 993 square meters of land.

Apr 2008

Contracted HR consultant and financial consultant, conducted large-scale operational improvements, and strengthened employee training

Dec 2008

Created operations strategy. Set 3 year plan in motion.

Jan 2009

Acquired another 2979 square meters of land and established C Line. Company factory expanded to a total of 5958 square meters, allowing for 5000 tons of storage.

Aug 2009

Moved A & B Lines to indoor factory

Sep 2009

Received ISO 9001 certification

Aug 2011

Founded Foreman's Association (SGA)

Apr 2013

Held 20 year anniversary ceremony and employee general meeting